Conference Venue
Now information for your lunch at the venue can be found here.
SASIMI2012 is held at International Conference Room, Beppu International Convention Center (B-Con Plaza). B-Con Plaza is located in the center of Beppu City near Beppu Park and within 5 minute bus or 20 minute walk from Beppu Station. The Global Tower in the site is the most outstanding landmark in the city.
About Beppu
Beppu, located in the north east part of Kyushu Island, is an area blessed with rich "onsen" or hot spring sources. There are 2,909 hot spring vents within the city and you can see steam from the hot spring all over the city. There are special geothermal pits called "Jigoku", which means "hell", and the tour to the hells is a good attraction to the tourists. Beppu has a variety of fresh seafood from Beppu Bay and Bungo Channel and also has many unique local cuisines and good local liquors in the area.
Enjoy the hot spa paradise!
by airplane
The nearest airport is Oita Airport (OIT) and it takes 45 minutes to central Beppu by airport bus.
There may be a few connection flights from major hub airports to OIT and it may be a chalenging job to plan a good flight schedule to OIT.
Another choice is Fuluoka Airport (FUK). There are many flights from major airports and there is a direct airport bus line to Beppu (Beppu Kitahama Bus Center) taking 2 hours.
A direction from Fukuoka airport to Beppu is available below:
* Direction from Fukuoka Airport to Beppu City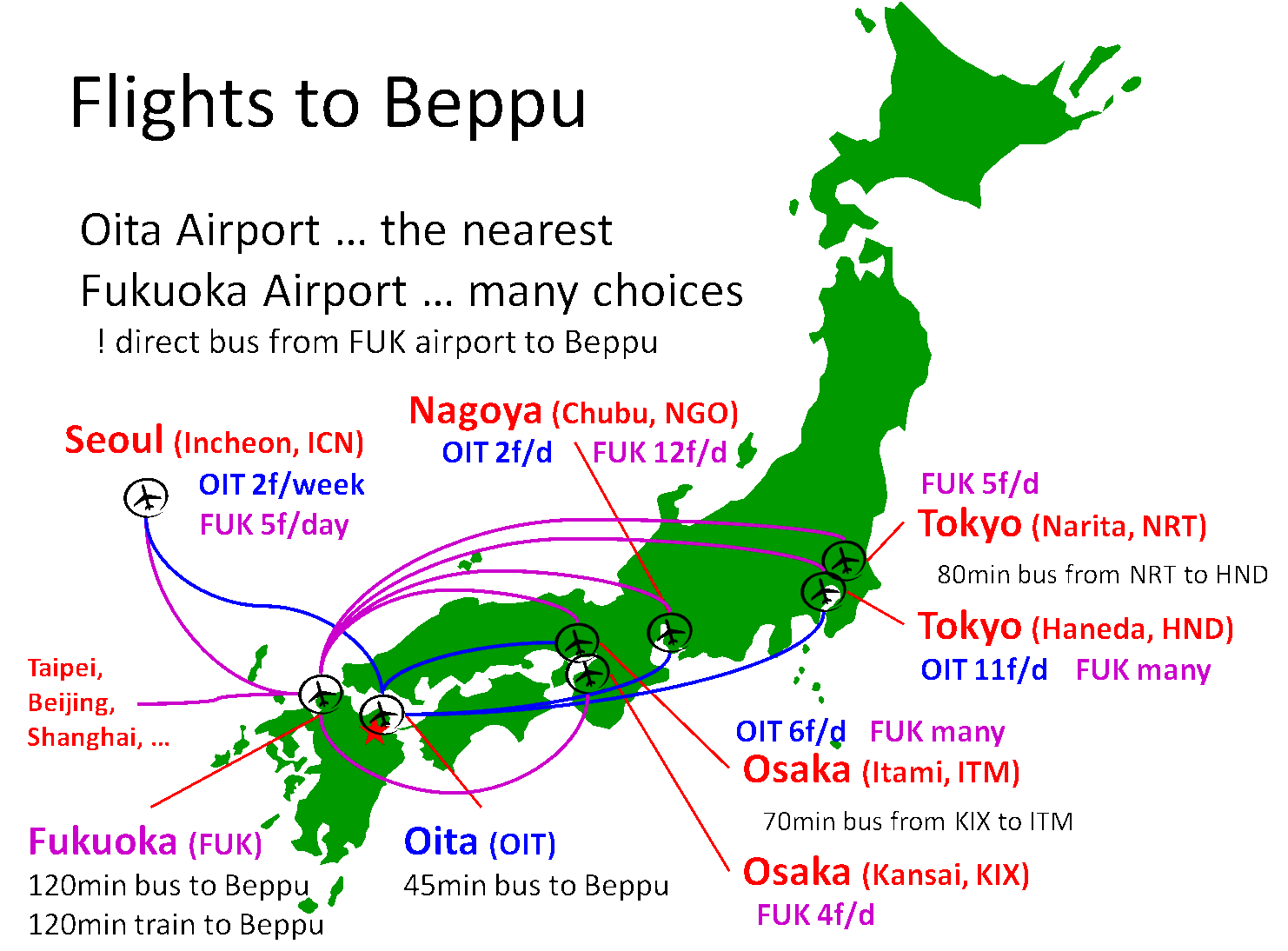 by train
If you also visit to somewhere in the western region of Japan, or just you like to see the local landscapes, train may be a good way for your travel. First, get to Kokura Station or Hakata Station by Shinkansen SuperExpress Train or some other trains. Then, take Sonic Express Train to Beppu. It takes about 2 hours from Hakata or Kokura to Beppu.
by ship
If you have enough time for your journey and love the sea, … okay …, there is another way for your own travel from Kansai area.
Last Modified: March 5, 2012